ABOUT ME
I'm a 40 something father, recent grandfather, selfish husband, financier of offspring, 80's classic car collector (scrap dealer if you ask my wife), managing director, and very amateur photographer.
I've decided to put this website together, not only as a place to put my images, but to find out how to build a website from scratch, and how the inner workings of it, well, work... Photography based websites are plentiful on the web, but I didn't just want to upload images into "templates", I wanted to work out what does what. If I'm honest, I didn't have a clue where to start, and it has, at times, been very painful. But I hope you like the result.
How did I get into low flying photography?
If you don't want to be bored to death, stop reading now, because this is also a bit of an autobiography.
First memory of seeing low flying jets, as with most people, started when I was a kid. Sat by the side of a reservoir, fishing with my grandfather, possibly in the Brecon Beacons, and being bored of waiting for the fish to bite, I went off trying to catch minnows with a bare hook in a small little inlet to the reservoir. I remember seeing two jets low over the water, and then came THE NOISE…. Apparently, I just froze.........................................and then started screaming… Not unlike what I do now when a pair of Eurofighter Typhoons banks around a Snowdonia park mountain.
So, to the 1980's, and a trip to an Eisteddfod I think? Staying with an uncle in Cardigan, I remember watching jets, don't even know what they were, both day and night. The cottage had a conservatory/lean to, and the jets would buzz over the top and all the windows would shake. Brilliant… I still preferred to watch them from inside though, still hadn't got used to that NOISE!!! Fast forward to the late eighties, and my Mother, a self-proclaimed hippie, took me and three mates to "The Centre for Alternative Technology", Machynlleth, her idea, not mine. Main memories from the day were, an insight into how we may all end up living when the oil and gas runs out, and some awful brown food. Oh, and jets over the top every 10 minutes or so. Fast forward again, and with my own driving licence, my AA junior road atlas, and my 1978 Mini...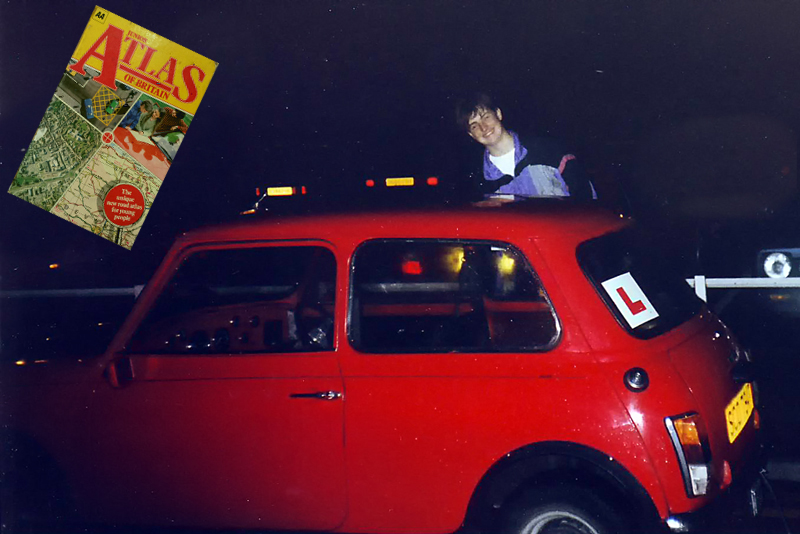 I'd shoot off driving around the hills and valleys of West, North and Mid Wales, on the lookout for low flying jets. NOTHING!!! Later on in the 90's, I'd even drag the family along with me, promising them a day out, but even then they knew we'd end up driving around looking for jets. Knowing that the RAF used the Welsh mountains to train, we'd be parked up on hilltops looking down valleys, sitting above lakes and reservoirs, even on weekends and bank holidays. Still NOTHING!!! Even with the use of the Internet, I could only ever find the MOD timetable for the Low flying area Wales, LFA7, (Which I now know not to be of any use whatsoever!!!), but no location info as to where they'd be going. So, the late 90's early 00's, busy working and travelling the country, I'd see the odd Herc over the M50, the odd Harrier over Brecon, and maybe hear jets above (and below) me if I'd taken the scenic route home through mid Wales, but nothing much. So really, I sort of gave up on the idea of ever seeing them.
MAY the 11th 2009
Sat in work on the PC working out how I was going to get a van I'd bought down from Edinburgh to Cardiff, and didn't really want to drive up with a driver to drive it back, so looked for a flight. I think I googled "Cardiff Wales Airport Low Fare Flights", or "Low Fare Fly Wales". Either way, after clicking through the first 5 or 6 links, I noticed the words LFA7 in one of the search results lower down the page. "Oh, that's the RAF low flying area" I thought, CLICK.........CLICK.........CLICK.........Oh my god, I've found it…………. A few "secretive" websites had been discovered, and contained ALL the information I'd been searching for years....... Oh, and some of them, for some reason, took nice photo's too.☺☺☺
After coercing Mrs Leyshon into coming up to mid Wales for a nice day out in the fresh air, I explained that I'd found somewhere where I could watch the jets. She said something like "Oh, not again, you know we never see any, and just end up driving around". I then explained that we had to be there really early, because there was only limited car parking. To which I do remember her saying " What other idiot is going to want to be sat on top of a mountain to watch jets, only you".
MAY the 12th 2009
So after a 5am start, we made our way up, and squeezed her car into the last remaining space at the top of Cad East. A fantastic clear day with wall to wall sunshine, and no cloud.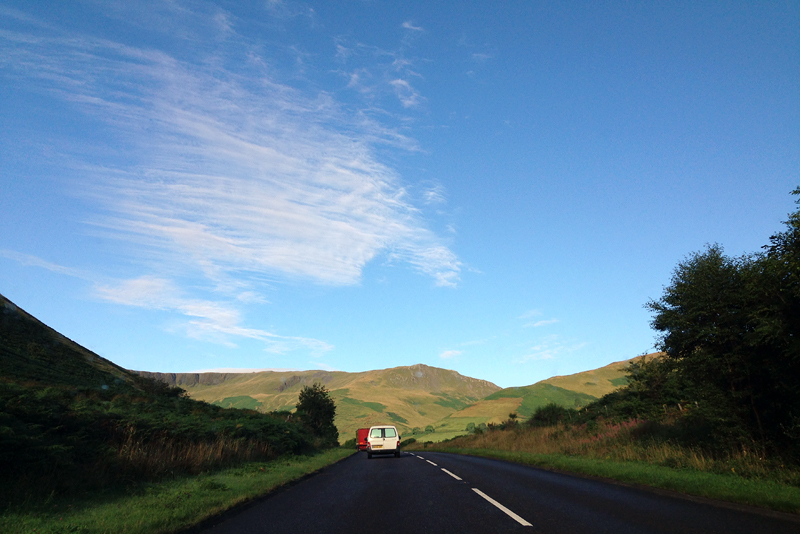 I said, "Come on then, lets go", to which she replied, "I'll stay here in the car and read my book thanks". So off I went on my own, rucksack full of food and drink, folding chair and a video camera in my pocket. I hadn't taken more than three steps from the car to start climbing up Cad East and had fallen flat on my arse, much to the amusement of my wife, "It was worth coming just to see that", as she laughed uncontrollably. So off I went to the lower ledge. I'd been there about an hour or so, and asking the people who were already up there all the usual questions, "How often do they come round, which direction do the come from, is it always this sunny!!!" Then………………………A pair of F15's came out of the Bwlch, then another pair, and again, and again. Fantastic. I was on my way back home by 12.30 thinking what a great day that was. How little did I know it would take over my life and my bank account…. So, that was my introduction to "The Mach Loop".
After a few trips with the video camera, I took the digital camera from work, a 350d, with a 75-300mm lens, and tried to see what all the fuss was about taking stills. Here is the 1st shot I took with it. There is a Hawk jet in there somewhere!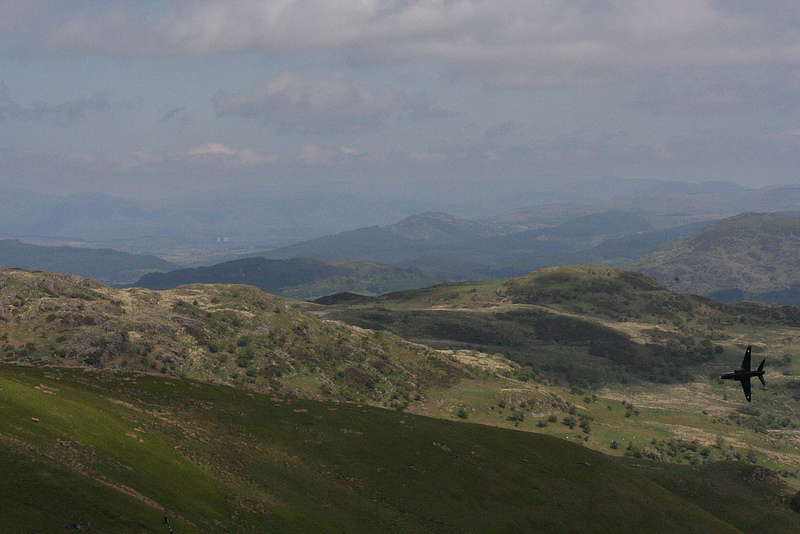 Not happy with that, I then went and bought a Canon 50d, a 70-200 lens and 2x converter, thinking that would do the job, I even had it delivered to a mate's house so my wife wouldn't know what it was. She actually thought it was a flask for about 2 months…I just prayed she wouldn't stick it in the dishwasher!!!. And I've been updating my kit, knowledge and editing skills ever since. So thank you to those who have helped me along the way. So just to show there has been a slight improvement, here's one of my latest images.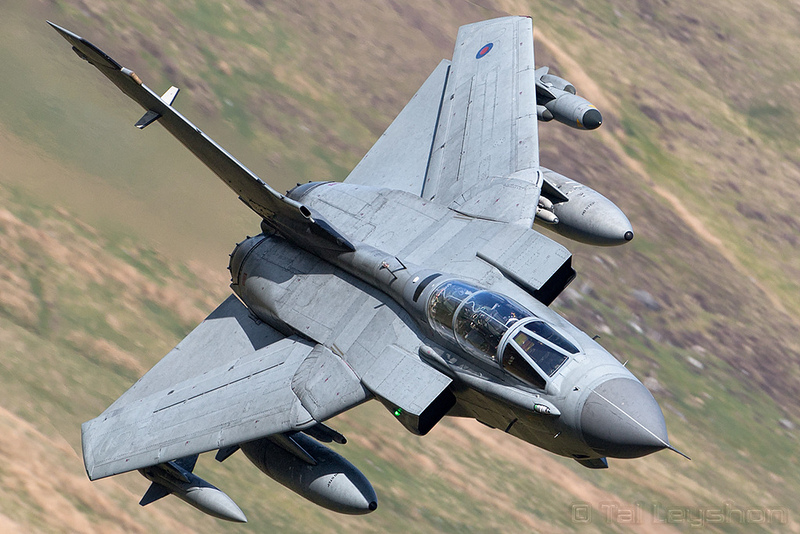 I've been fortunate enough to photograph many aircraft through the mountains of Wales, and was so glad to see the Harrier before it was retired early. I have so many great memories from my trips there, met so many great people, and made good friends of most of them. But I fear that time is running out for low level fast Jet photography, with the retirement of the Tornado next on the hit list, I'm not sure it will survive the SDSR (Strategic Defence and Security Review) in 2015. So, I will be taking every opportunity to get out there and "catch 'em while you can"
Tal
**Update November 2015**